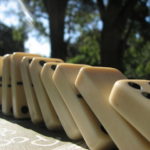 I surprised an atheist colleague a while back when I asked to borrow all the atheist books he had. I was attending Frank Turek's Cross-Examined Instructor's Academy in Charlotte, NC for 3 days of intensive training in Christian apologetics (i.e. giving a rational defense for our beliefs).[1] Part of the requirements for attendance was a long reading list of Christian apologists, as well as being familiar with the works of prominent atheists like Dawkins, Hitchens, Harris, etc. This desire to delve in to opposing views surprised my friend. But as physicist and theologian John Polkinghorne says, "The question of the existence of God is the single most important question we face about the nature of reality".[2] That's because of the far-reaching effects it has in our lives. Indeed, ideas have consequences, so let's look at some consequences of Christian doctrine.
Work Ethic – I often hear the lament that people don't want to work hard anymore, and I've seen plenty of examples myself. Work ethic seems to have suffered some major blows in our generation. But it's good to remember that this trait used to be referred to as the "Puritan work ethic" or "Protestant work ethic". Why? Because the Puritans brought to America the application of biblical principles that Protestant reformer Martin Luther had reminded Europe of the century before: that there can be honor in our work, regardless of what we do, because we do it for God. Other civilizations viewed physical work as demeaning and lowly, fit for slaves but not for citizens, and certainly not for nobility. Yet the Bible tells us that we are to do our work, whatever it is, as for God rather than men[

3

]; that masters should be fair to their slaves, for they too have a Master in heaven[

4

]; and slaves should not just work when their master is watching, but with integrity all the time; and that God had given Adam, the first man, work to do in the Garden of Eden before Adam sinned, and so work was not a curse to be avoided, but a way to serve and honor God.[

5

] While we may not live in a society with masters and slaves anymore, those exhortations to fair treatment of workers and doing one's work with integrity apply equally well to our modern-day employer-employee relationships.
Ethics – That idea of fairness leads to another implication of Christianity. The Christian should not just work hard, but should also be ethical. The Bible tells us that false weights (i.e. for cheating in business transactions) are an abomination to the Lord.[

6

] And that he who formerly would steal should steal no more. [

7

] We are also told that it is better to be wronged than to do wrong. And that even when we do the right thing, it should be from pure motives and not from compulsion or fear of being caught.[

8

]
Stewardship – Under Christianity, all we have is given to us by God. He is the owner, and we are simply stewards. [

9

] This perspective naturally leads to a desire to care for and use wisely the resources we have. We do not value resources like the environment and animals above people, but we don't want to neglect them or misuse them either.
Imago Dei – Speaking of the value of people, under Christianity, all people are created in the image of God, or "imago Dei" in Latin. Therefore, they each have intrinsic worth regardless of race, nationality, creed, gender, title, or any other differentiation.  In fact, the Bible tells us that there is really only one race – the human race – so racism simply must whither and die in the soil of Christianity.[

10

] Aside from our common origins, God has offered salvation and eternal life to all freely.[

11

] And if Jesus was willing to sacrifice Himself for people a little different from us, who are we to hate those whom He loved? Moreover, we recognize that "none are righteous," and that apart from Jesus, we are no better than the lowest outcast or the most evil villain.[

12

] As the saying goes, "the ground is level at the foot of the cross."
Dealing with Suffering – Life can be tough. And yet, in 2 Corinthians 4, Paul describes the various trials he has gone through, then proceeds to say that "momentary light affliction is producing for us an eternal weight of glory far beyond all comparison."[

13

] Paul was a man who had been imprisoned, beaten, shipwrecked, stoned, left for dead – and yet, he considered this difficult life to be "light" in comparison to the "heaviness" of eternity with Christ. In Paul's view, no amount of earthly suffering could tip the scales. Christians have a bottomless reservoir of strength and hope in times of trial.
There are significant implications to belief in Christ. We can compartmentalize our beliefs, but only at the expense of our honesty. For if we are honest, our beliefs must express themselves throughout our lives. These are just a few of the ways those beliefs will surface. Can you think of others?
---
[1] In fact, this blog is the result of being challenged by J. Warner Wallace at that training class to become a "Christian casemaker". 🙂
[2] John Polkinghorne, The Faith of a Physicist, Ch. 3.
[3] Colossians 3:23, 1 Corinthians 10:31.
[4] Colossians 4:1, Job 31:13-15, Ephesians 6:5-9.
[5] Genesis 2:15.
[6] Proverbs 11:1, 20:10,23, Micah 6:11, Leviticus 19:36, Deuteronomy 25:13 to name a few.
[7] Ephesians 4:28.
[8] 1 Corinthians 6:7, Proverbs 16:2, 2 Chronicles 19:9.
[9] Deuteronomy 8:1-20, Matthew 24:42-51, 25:14-28,
[10] Genesis 1:27, Acts 17:26, Galatians 3:26-29.
[11] Romans 6:23, 1 Peter 3:18.
[12] Romans 3:10-12, 23.
[13] 2 Corinthians 4:17.